Presentation
The extreme variety of Veronese wine productions within the Italian wine scene, along with the rich tourist offer of its territory, proudly qualify Verona as the ideal
capital of wine tourism. 
In November of 2016, the Chamber of Commerce of Verona officially signed the membership to the Great Wine Capitals – Global Network, thus assigning Verona
the role of representing Italy among the eleven Wine Capitals of the world. 
One of the main activities of the Great Wine Capitals Network is the prestigious "Best of Wine Tourism" International Contest – which was participated this year by 100 wineries and wine tourism services from Verona – aimed at awarding, within seven different competition categories, those companies that stand out for the excellence of the wine services, conferring a brand of quality, recognizable by the public.
The companies, participating in the "Best of Wine Tourism" Contest are introduced by the Chamber of Commerce of Verona inside this Guide, which contains a section dedicated to oil tourism, through the description of olive mills and olive farms from Verona that open their doors to visitors for tastings, and other  experiences related to olive cultivation.
More info: visit website Great Wine Capitals  
VERONA WINE AND OLIVE OIL TOURISM GUIDE 2023 - 7th ed.
VERONA WINE AND OLIVE OIL TOURISM GUIDE 2022
on line Guide
Verona Wine and Olive Oil Tourism 2022 
VERONA WINE AND OLIVE OIL TOURISM GUIDE 2021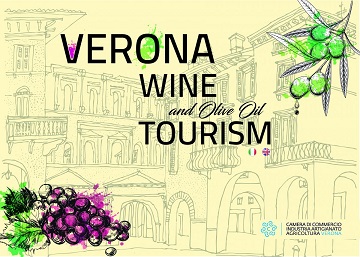 on line Guide
Verona Wine and Olive Oil Tourisim 2021 
previous editions